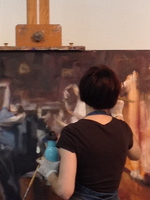 Painting a Passion for Life
Art-making is how I connect with life. I experience the creative process as a path of self-discovery and transformation. Through painting, I explore connections between human, animal and natural worlds. The human face and flesh, animal eyes, skins, bones and feathers speak to me revealing life's wonder and mystery. Inspiration for the work comes from sources ranging from ancient wisdom traditions to modern depth-psychology and contemporary physics; timeless philosophies suggesting the inter- connectedness of all life, and reminding us of an instinctive orientation towards relatedness where seeming opposites of matter and spirit, masculine and feminine, darkness and light exist in harmony. Working with archetypal images culled from nature, myth, art history and and my own dreams and reflections, a montage of colorful visual impressions emerges, forming new narratives celebrating life's complexity, diversity and unity; and also it's amazing beauty.
"...[Jenkins'] painting style is urgent, juicy, expressive and inquisitive."
- Ron Schira, The Reading Eagle